New research shows how different generations are adapting to new financial future.
This report compares different attitudes towards finances among three generations in the UK, and how those attitudes impact work, relationships, spending, saving and investing. As the research shows, people of all generations are grappling to come to terms with the changing financial landscape. It also reveals the impact of the immediate financial shock caused by Covid-19, including some reasons to be optimistic for the future. Might Covid-19 be a catalyst for course correction?
Despite widespread recognition that today's younger generations face harsher financial conditions, retirees regard Millennials as too extravagant, lacking the ability to save or budget.
While younger people face significantly different circumstances to previous generations, they continue to look to their parents for financial lessons. But is parental advice fit for purpose?
Millennials are far more likely to be losing sleep due to financial worries, impacting their mental health and their relationships.
Faced with the crisis of confidence in the UK's health and social care system, people of all generations are likely to prioritise long-term health over long-term wealth.
Most UK adults hold no investments at all, favouring cash savings as the best way to meet even long-term financial goals. How much is caution costing cash savers?
In the face of Covid-19, half of UK adults regret prior financial decisions, rising to almost three in four among 18-24yr olds. Main regrets are not having a proper financial plan and being too short-term in their thinking. Over a third of investors now put more value on professional advice due to Covid-19.
"The research shows our lives are becoming less and less linear. The journeys young people take today will be fundamentally different to those experienced by their parents and grandparents. This manifests no more clearly than in our working lives – with career breaks earlier in life, the job for life and cliff-edge retirement becoming things of the past and working later in life more and more common."
"What the report ultimately tells us is that people in the UK, across generations, are struggling to navigate a changing financial landscape. It also shows that the crucial role of investing to accumulate long-term wealth is not recognised. The power of investment can transform lives, with huge potential upside for those who engage early, plan for the long term and stay the course. More than ever, we need to find a way to bring investing to the mainstream".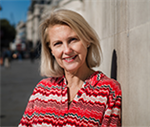 Alison Jefferis, Head of Corporate Affairs