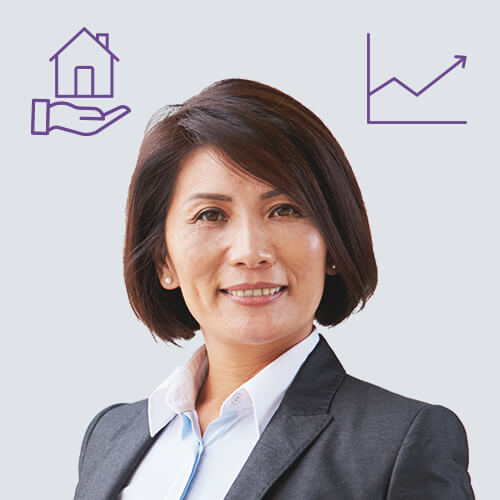 Rapid Accumulation (40s-50s)
At this stage you are likely to have higher earnings, providing greater scope for further investments. This is a critical time to review your financial planning priorities, both in the long term and short term. There is also the possibility you will need to move to a larger property, as well as put more money aside for future school or higher education fees. So how do you combine these new requirements with your existing financial goals?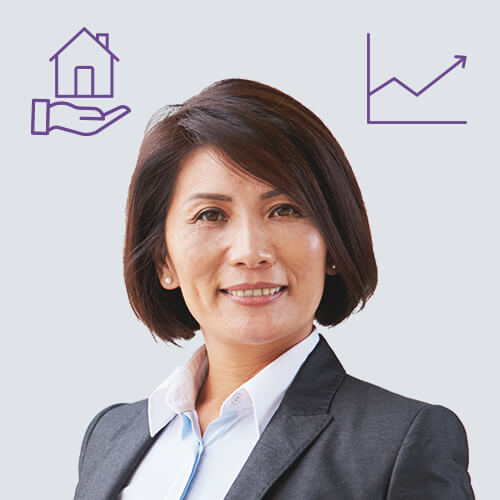 A growing family could mean you need more living space. Moving house is not cheap, but if your earnings have increased significantly since you first bought, and you have a large amount of equity in your property, you will be in a stronger position to cope with the likes of stamp duty and higher mortgage repayments.
It is worth thinking about how long you have left to pay off your mortgage: it can be tempting to extend the term of your loan when you move as it means cheaper monthly bills. But if you were to align the length of your loan so you had cleared the debt by the time your eldest child enters university, for example, you could be in a much better position to cope with the costs of higher education.
Think also about the financial implications of moving to a new area: you may be able to get a larger property for your money if you moved to a more suburban or rural location. And by choosing an area with good state schools, you could avoid having to pay independent school fees: these benefits should be weighed against expenses such as higher commuting costs.
Helping your children onto the property ladder
Once your children start work, whether they are still living with you or are renting a place of their own, they will invariably wish to get onto the property ladder at some point. So how can you help? The most obvious way is by giving (or lending) them a lump sum towards their deposit. You may already have bank savings put aside for this reason, or you could think about cashing in some of your existing investments.
Another option is to release some of the equity you have built up in your own property by remortgaging. This means you would borrow more money from your mortgage lender, which would be likely to result in higher monthly repayments. It is worth comparing the pros and cons of remortgaging versus cashing in investments. If you have considerable equity in your home, borrowing, say, £50,000 could be possible at an annual interest rate of between 2% and 3%. If you were to cash in investments, on the other hand, you could miss out on future returns at rates significantly higher than this, especially if they are tax-free in an ISA (Individual Savings Account), for example.
Important information: Columbia Threadneedle Investments does not give investment advice. If you are in any doubt about the suitability of any investment, you should speak to your financial adviser. Data as at 30 September 2019 unless otherwise specified. Past performance is not a guide to future performance. The value of investments and any income is not guaranteed and can go down as well as up and may be affected by exchange rate fluctuations. This means that an investor may not get back the amount invested. Your capital is at Risk. The analysis included in this document has been produced by Columbia Threadneedle Investments for its own investment management activities, may have been acted upon prior to publication and is made available here incidentally. Any opinions expressed are made as at the date of publication but are subject to change without notice and should not be seen as investment advice. Information obtained from external sources is believed to be reliable, but its accuracy or completeness cannot be guaranteed. The mention of any specific shares or bonds should not be taken as a recommendation to deal. Issued by Threadneedle Asset Management Limited. Registered in England and Wales, Registered No. 573204, Cannon Place, 78 Cannon Street, London EC4N 6AG, United Kingdom. Authorised and regulated in the UK by the Financial Conduct Authority. Columbia Threadneedle Investments is the global brand name of the Columbia and Threadneedle group of companies. columbiathreadneedle.com
Millions of people around the world rely on Columbia Threadneedle Investments to manage their money. We look after investments for individual investors, financial advisers and wealth managers, as well as insurance firms, pension funds and other institutions.
Columbia Threadneedle Investments has a comprehensive range of investment funds catering for a broad range of objectives.
We offer a broad range of actively managed investment strategies and solutions covering global, regional and domestic markets and asset classes.