The objective of the Fund is to provide indirect investment exposure to a diversified portfolio of property assets in the United Kingdom. Unitholders have a right to the income of the Fund, which is allocated monthly and paid at the end of each quarter. As Investment Advisor to the Fund, Columbia Threadneedle Investments follows a longstanding consistent investment approach to deliver long term outperformance against the Fund's MSCI/AREF UK All Balanced Property Fund Index benchmark.
| | Jersey Property Unit Trust | | |
| --- | --- | --- | --- |
| | | | |
| | | | |
TPUT Quarterly Report – Q1 2021
Annual investor meeting - April 2021
Fund Manager and Co-Head of Institutional UK Real Estate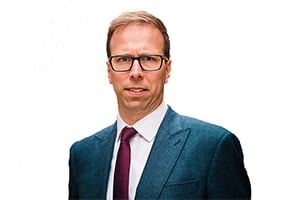 Fund Manager and Co-Head of Institutional UK Real Estate
James Coke is Co-Head of Institutional, UK Real Estate at Columbia Threadneedle Investments. He took up this role in October 2020 and has joint responsibility for the investment performance and strategy of our UK institutional property mandates. He is also portfolio manager for the Threadneedle Property Unit Trust.
Before joining the company, James worked in the UK Capital Markets team at JLL, advising a range of institutional clients on property acquisitions and disposals throughout the UK.
James has a BSc (Hons) in Land Management from the University of Reading. He is also a member of the Royal Institution of Chartered Surveyors.
Net Zero Strategy and pathway
The following Strategy and Pathway, has been developed in line with the Better Buildings Partnership's Net Zero Carbon Pathway Framework. It provides the overarching scope of our commitment to a net zero target of 2050 for our UK Real Estate portfolio, and will be supported by fund-level frameworks providing individual targets, commitments and pathways for each of our funds
Committing to zero carbon real estate
Our UK Real Estate strategy to reach net zero by 2050 addresses a major source of risk for commercial property investors and aims to deliver better outcomes for all stakeholders
Asset allocation update: standing pat
Maya Bhandari looks at how the team has managed its asset allocations over the past couple of months and where they believe the best risk-adjusted returns will come from.
Millions of people around the world rely on Columbia Threadneedle Investments to manage their money. We look after investments for individual investors, financial advisers and wealth managers, as well as insurance firms, pension funds and other institutions.
We offer a broad range of actively managed investment strategies and solutions covering global, regional and domestic markets and asset classes.
As a leading global asset management group, Columbia Threadneedle Investments aims to deliver positive outcomes that meet the needs of our stakeholders and we commit to always act responsibly, transparently and in the best interests of those who trust us to manage their investments.