Carbon reduction through commercial real estate investment
Climate change is firmly back on the agenda. As large asset owners, institutional investors have an important role to play in helping to reduce carbon emissions.
UK office buildings are bad offenders, contributing around a fifth of total carbon emissions in the UK. New build, carbon-compliant real estate only accounts for 1-2% of total supply. To meet the Government's 2050 carbon reduction targets, emissions from existing buildings will need to be reduced by 80%. Realistically, this can only be achieved via refurbishment.
As large investors and investment managers we have the ability – and the responsibility – to help drive positive outcomes for society. We have one of the largest and most experienced UK property teams and in 2010 took a pioneering step towards carbon reduction by teaming up with Stanhope, one of the leading commercial developers and the Carbon Trust, a world-leading adviser to businesses, governments and the public sector on carbon reduction.
In March 2010 we launched the Low Carbon Workplace Trust and assembled a team of industry leaders in property investment management, design, carbon engineering/refurbishment and carbon compliance. Together with our partners we identify suitable office buildings and turn them into modern, energy-efficient workplaces, while at the same time generating returns for investors. We then let and manage the buildings to ensure ongoing management and reduction of energy wastage.
Reflecting the certification of its office investment portfolio to operational carbon neutrality in 2019, the fund changed its name to the Threadneedle Carbon Neutral Real Estate Fund ('the Fund') in May 2020. The name change reflected the status of the Fund as a pioneer of carbon reduction in commercial real estate assets through value-add refurbishment and continued operational carbon neutral management.
As large asset owners with stewardship responsibilities, institutional investors are increasingly looking for a responsible, tangible aspect to their investments, whether social or environmental. This is increasingly mirrored by the demands in the occupational market and we are seeing sustainability and carbon neutrality credentials being high on tenant's agenda when considering stock selection.
The Carbon Neutral Real Estate Fund concept is economically viable, socially responsible, repeatable, scalable and profitable. It is a great example of the private sector taking the initiative and developing new commercial models that unlock the value in low carbon refurbishment.
*Source: Carbon Trust, October 2020
Columbia Threadneedle Investments leads in the identification of suitable redundant/obsolete/vacant/short-term let office property showing the optimal combination of location, building fabric, original construction, configuration and local market conditions, offering the potential for a desirable occupational solution that will benefit from a Low Carbon Workplace refurbishment.
Step 2: Economic assessment
The rigorous economic assessment by all three Partners to confirm the achievability of an economic, risk adjusted, profitable and low emission end product, which meets the needs of both occupiers and investors. The entry price, carbon engineering/ refurbishment budget and rental value equation will be computed under a number of potential scenarios.
Step 3: Carbon engineering/refurbishment
The 'on site' phase, where Stanhope and the Carbon Trust work in tandem to deliver the agreed physical and carbon specification, within the agreed budget and time scales. Concurrently, Columbia Threadneedle Investments leads early engagement with the potential occupiers, supported by the Carbon Trust.
Step 4: Completed projects and continuing carbon appraisal
Following and during the completion of projects the Carbon Trust applies rigorous carbon oversight of the strategy's development and investment portfolios. Such oversight includes maintaining ongoing occupier engagement under the Low Carbon Charter, in order to provide training, support and assistance to occupiers with the target of ensuring annual certification under the Charter. This level of continuous occupier engagement provides the strategy with a clear competitive edge over its peers and increases the likelihood of occupier retention.
Step 5: Portfolio management
The strategic asset allocation of the portfolio is reviewed by reference to Columbia Threadneedle Investments assessment of the UK Investment Market and the relative prospects for the underlying geographical areas. Columbia Threadneedle Investments utilises the capabilities of its large and long-established investment team and seeks to generate outperformance in line with similar track records of Columbia Threadneedle Investments-managed property funds.
Value for occupiers and investors
| | |
| --- | --- |
| | Lower energy costs mean properties are resistant to functional and environmental obsolescence |
| Future-proofing against future energy price hikes and new legislation | Due to the imbalance between supply and demand, low carbon properties also benefit from better security and quality of income, greater potential for capital gains, shorter void periods and access to pre-let developments |
| Improved employee satisfaction and workforce productivity | Together with the strong risk-adjusted returns we have generated, this is good news for investors |
| Enhanced corporate reputation | |
To date the Carbon Neutral Real Estate Fund has raised over £175m and the portfolio currently comprises of six buildings.
Low Carbon Workplace Standard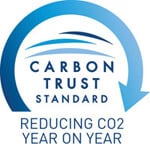 Carbon Neutral Real Estate Fund building occupiers' energy and carbon performance is monitored and assessed against the Carbon Trust's Low Carbon Workplace Standard. Occupiers that successfully meet the criteria are awarded with certification to the Standard.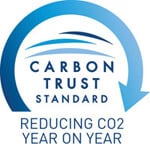 The Carbon Neutral Real Estate Standard assesses three things:
Quantitative performance: Workplace carbon emissions are quantified per unit of floor area and per person. Occupiers must either meet best practice emissions benchmarks or demonstrate year-on-year improvements.
Qualitative criteria: Occupiers are assessed against a set of broad sustainability performance indicators, together with occupant satisfaction. This assessment provides a holistic picture of the workplace's overall environmental performance.
Carbon management: Occupiers are required to have implemented a carbon management system that embeds energy efficiency and carbon management in the day-to-day activities of the workplace.
In 2015, the Low Carbon Workplace Partnership won three industry awards.
Guardian Sustainable Business Award
Real Estate Manager of the Year
CIBSE Refurbishment Project of the Year 2015
Carbon Neutral Real Estate Fund Investor Report – Q3 2021
Carbon Neutral Real Estate Fund Investor Report – Q1 2021
Global investment solutions
Solutions Enhanced: Capital Market Assumptions 2022 Making a transition
The end of 2021 saw a continuing reminder of the impact of coronavirus, inflation occurring in major economies, and the world waking up to the stark choices presented by the climate emergency. We set out the expectations for what all this could mean for investors over the next five years and in the longer run. These capital market assumptions form the base case we use when constructing strategic asset allocations for clients.
UK Real Estate: how to follow a record 2021?
James Coke looks at how the UK market might follow a record 2021, and while we don't expect next year to deliver comparable capital value growth, it is likely to witness similar positive supply and demand dynamics which should maintain market momentum
Net Zero Strategy and pathway
The following Strategy and Pathway, has been developed in line with the Better Buildings Partnership's Net Zero Carbon Pathway Framework. It provides the overarching scope of our commitment to a net zero target of 2050 for our UK Real Estate portfolio, and will be supported by fund-level frameworks providing individual targets, commitments and pathways for each of our funds