Diverse opportunities drive consistency
Different asset classes respond differently to changes in the economic and business cycle, hence the investment returns from individual asset classes can vary significantly over time and differ markedly from those of other asset classes. By investing in a mix of assets and actively reviewing and changing our portfolios, in order to participate in investment opportunities while minimising volatility, we aim to deliver a smoother investment experience for investors.
Potential to receive attractive levels of growth and/or income with less volatility than equities.
Active allocation of risk, when managed efficiently, can provide investors with more return per unit of risk
Uncorrelated sources of return can deliver important diversification benefits compared to single asset class portfolios
Provides investors with an effective, 'one stop shop' investment solution.
Asset allocation update: warning lights are flashing Multi-asset | October 2021
After 18 months of exceptionally strong equity markets, most measures of valuations look high against their own absolute histories.
Asset allocation update: standing pat
Maya Bhandari looks at how the team has managed its asset allocations over the past couple of months and where they believe the best risk-adjusted returns will come from.
Lessons from the backyard on fiscal policy
Getting the balance correct between short-term relief checks and long-term infrastructure spending is critical.
CIO William Davies gives his current thoughts on the shape of the recovery, what impact different levels of stimulus and the speed of vaccination campaigns may have in Europe and the US, and which structural trends have been accelerated by the pandemic.
In this podcast from the Eye of the Needle team, Toby Nangle, Global Head of Asset Allocation at Columbia Threadneedle Investments, reflects on the extraordinary year we've had.
Asset Allocation Update - March 2021
At the end of last year, I reflected that you "gotta have faith in low discount rates" for risk assets, such as equities, to continue to perform well in 2021.
Threadneedle Dynamic Real Return Fund
Multi-asset real return portfolios aim to deliver consistent, sustainable risk-adjusted returns irrespective of the investment environment. This combination of positive long-term capital growth potential with lower volatility and protection against inflation lies behind the appeal of multi-asset real return funds.
Threadneedle Global Multi-Asset Income Fund
With a focus on diversification, multi-asset income portfolios can combine the right blend of income-generating assets to provide a strong and sustainable level of income, as well as preserve and grow capital, irrespective of the global macro environment.
Threadneedle Managed Funds
Primarily investing in Threadneedle funds, our fettered fund of fund multi-asset range allows investors access to relatively low cost, well-diversified portfolios whilst using a blend of asset classes to cater for differing attitudes to risk.
Our investment experts manage all multi-asset strategies using the same tried and tested process.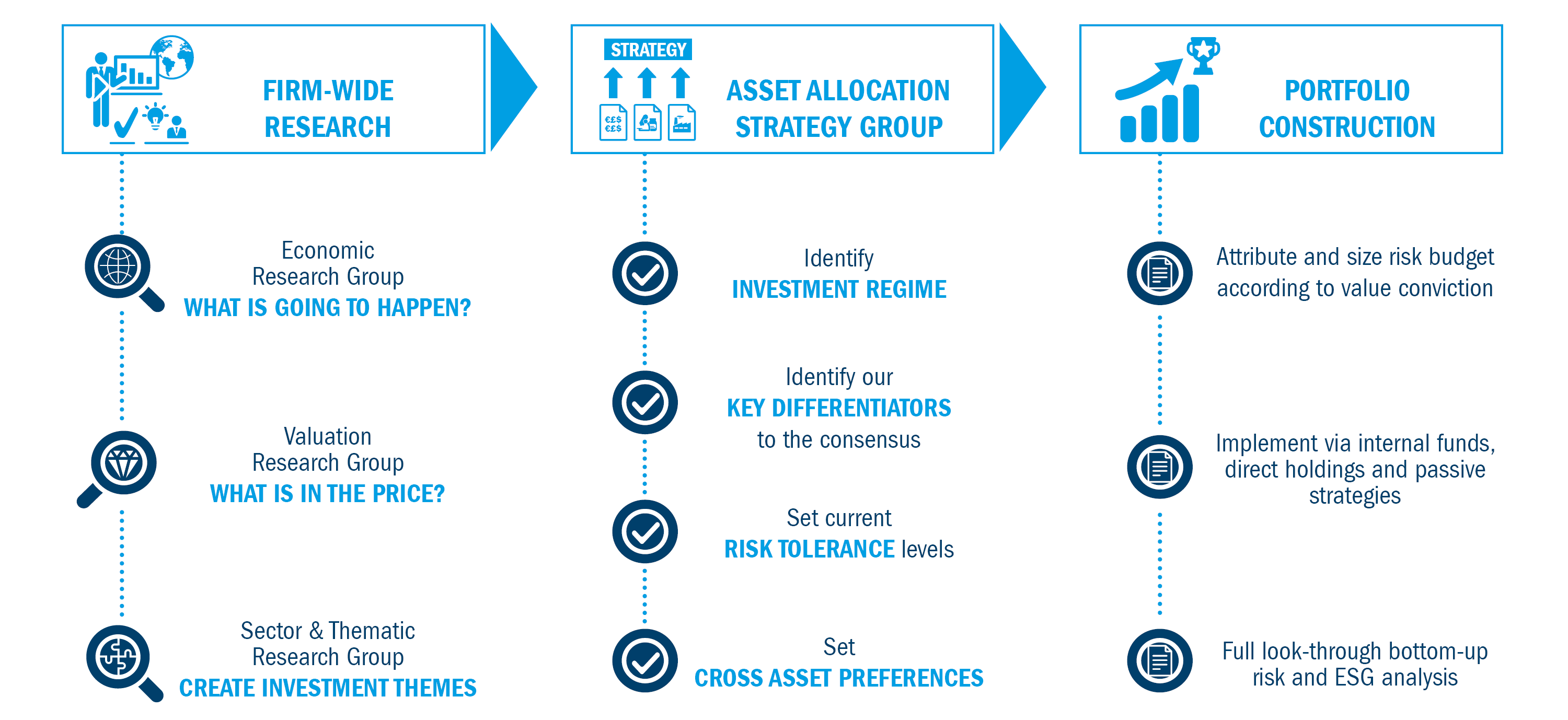 Millions of people around the world rely on Columbia Threadneedle Investments to manage their money. We look after investments for individual investors, financial advisers and wealth managers, as well as insurance firms, pension funds and other institutions.
Columbia Threadneedle Investments has a comprehensive range of investment funds catering for a broad range of objectives.
We offer a broad range of actively managed investment strategies and solutions covering global, regional and domestic markets and asset classes.