After Boris Johnson's extraordinary landslide win in the UK general election last December, there has been a marked fall in uncertainty. A Brexit deadline passed without being extended on 31 January 2020, and we are now about to begin negotiating on our future relationship with the European Union, with a deadline of the end of this year for the details to be finalised.
There have been a lot of soundbites from Prime Minister Johnson, but it is the EU that has produced an actual document to kick off the process.
So, what is the negotiating stance of the EU?
Released on Monday 3 February, it is a long, detailed document, setting out their parameters for negotiating our departure from the EU.

Many in the EU believe that the UK is being over-ambitious by expecting that the details can be finalised by the end of this year and that Boris should extend this deadline by one or two years. The difficulty is that Boris must decide by July whether he wants an extension – and he has said there will be no extensions.

The document also states that any trade agreements should be subject to Dynamic Regulatory Alignment, which means that when the EU changes its trade rules, the UK has to automatically follow suit. This is something that Boris is strongly opposed to. He emphasises 'divergence'.

The two sides are far apart and many feel that the likely outcome is some sort of 'skinny' free trade agreement (FTA) covering most goods but few services – zero tariffs and zero quotas, something that the EU had already looked to offer in the event of a no-deal Brexit.

After the Brexit referendum, the EU insisted that negotiations on withdrawal could not begin until the UK Prime Minister triggered Article 50 and then limited discussions to the areas on which it wanted agreement. Their stance now is that agreement on the vast array of remaining issues – trade, security etc. – should be reached as part of a single package: "nothing is agreed until everything is agreed". This approach has advantages, but it does mean that important areas may not be agreed until just before the deadline. Indeed, on many areas, only interim agreements will be possible.

And finally, the EU want institutions in the EU to have jurisdiction in a multitude of areas. Their negotiating document is mindful of UK political sensitivities and does not mention the European Court of Justice (ECJ) by name, but its presence is implicit. The response from Boris? Too many expletives to transcribe it here…only the improved agreement process is acceptable. So, as far as Boris is concerned, not a good opening gambit from the EU, and likely to cause negotiating 'traffic jams' very early on in the process, with some commentators predicting a  breakdown in the talks as early as April.

This sector is hugely important to the UK but has received remarkably little attention so far. There is a proposal of 'rolling' agreements on equivalence that would be subject to break clauses on both sides. This would not constitute a reliable basis for trade, notably for the financial services industry.

Switzerland – an often-ignored example
There has been much reference to a free-trade agreement, World Trade Organisation (WTO) rules, a Canada-style deal, and of course, no deal, but the EU's relationship with Switzerland is a live example that is not often cited. Switzerland has a unique relationship with the EU, which includes financial equivalence and bilateral rules. The EU is keen to change this relationship, which gives us valuable insight into how they see their trading partners going forward. The EU wants to abandon the bilateral agreements and enforce direct oversight by the European Commission. Financial equivalence (the recognition of nonEU financial frameworks) between the two parties was withdrawn by the EU last year, which indicates how fragile this concession is: it could be withdrawn in the future at short notice.
Dairy Products
Sugar and confectionary
Beverages and tobacco
Animal products
Cereals and Preparations
Fish
Source: World Trade Organisation (WTO), Tariff Profiles 2014, Morgan Stanley Research. Most Favoured Nation (MFN) status is the trading relationship that applies to all WTO members when trading with another WTO member, and who have not agreed with each other another and more advantageous trade agreement, such as a customs union or free trade agreement.
It is useful to remind ourselves what the different types of trade agreements entail:
The Comprehensive Economic and Trade agreement (CETA) between the EU and Canada has also been referenced as a possible blueprint for a trade agreement, but this took more than seven years to negotiate, and was pushed for by France as French is an official language of Canada, so it is unlikely to serve as a framework here.
So, there is much to negotiate and a tight deadline. But what of the domestic policies under the new Boris administration?
Several confidence surveys show a bounce since Boris won his landslide victory in the general election last December. The scale of the majority signals that Boris has the mandate to push through some decisive domestic policies, and it will be these, as well as the Brexit negotiations, that will be key for the fortunes of the UK economy looking forward.
UK survey data shows dramatic bounce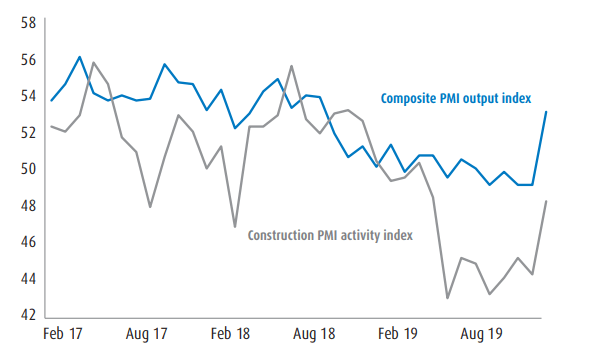 Source: Bloomberg, as at Feb-20.
The Purchasing Managers' Indices (PMIs) are recognised as one of the best indicators of 'real time' economic activity in major economies. In the UK, the construction PMI has a particularly strong link with overall economic activity. On some measures it has the strongest correlation.
The rate of wage inflation has been trending higher and now stands well above 3%. However, there has not been a corresponding increase in productivity and were the rate of wage inflation to increase further, something would have to give: either profit margins would be squeezed or inflation would rise above the Bank of England's 2% target.
Fiscal outlook is at an inflection point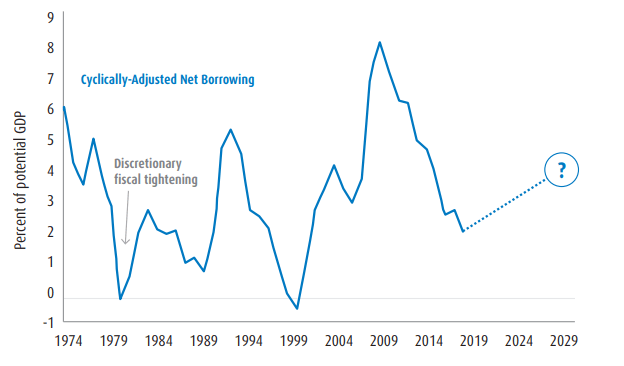 Source: Goldman Sachs, as at 30-Jan-20.
The cyclically adjusted fiscal stance measures the deficit after removing fluctuations due to the economic cycle, whereby tax receipts decline and unemployment benefits etc. increase when the cycle turns down. It is designed to reflect discretionary changes in fiscal stance: the effect of fiscal decisions on the economy, rather than the reverse.
The chart shows that there has been a huge discretionary tightening of fiscal policy in the last 10 years. Under Cameron and May, the underlying deficit fell from 9% of GDP to 2%. This blunted the recovery from the Global Financial Crisis.
Boris now has the option to reverse much of this tightening. How much will he do? We will find out in the Budget on 11 March, but I expect a substantial fiscal expansion. Much of this is likely to take the form of higher public spending, which typically has a bigger impact on the economy. With the fiscal tool of tax cuts, some people may save their extra disposable income, or spend it on imports, neither of which will boost the domestic economy – but spending on infrastructure has a more direct impact on UK GDP.
This is crucial for Boris: the domestic economy is already weak and the impact of the negotiations with the EU are likely to cause further weakness, so a boost is needed from somewhere.
Brexit represents a massive structural change for the UK, for politics and the economy. We spent 40 years moving towards further integration with Europe and we will now experience an abrupt change, negotiating for major divergence in less than 1 year.
The EU will have to concede on ECJ jurisdiction; the UK has to recognise the trade-offs (fish versus EU markets).
Remainers who talk of disaster, and Brexiteers who foresee huge new opportunities are both exaggerating.
Whatever EU-UK deal is struck will be subject to change and modification.
Domestic UK policies under Boris on fiscal policy, living wage and state aid etc. are crucial.