The impact of COVID-19 on climate change has made for some positive newsflow amid the daily death tolls and sobering economic data releases, as headlines report on clearer skies and falling CO2 emissions. But beside the short-term side effects of the temporary lockdowns, what will the impact of the pandemic be on our fight against climate change?
It's certainly true that global greenhouse gas emissions will fall this year as economic activity dives. The International Energy Agency estimates that CO2 emissions from the energy sector will fall by 8% in 2020 – six times greater than the reduction due to the financial global financial crisis – which will take these emissions back to levels last seen in 2010.1
But whilst this effect is dramatic, it won't bend the curve longer term.
This chart by Climate Action Tracker shows the longer-term picture – specifically, what happens to global warming based on our actions to reduce emissions.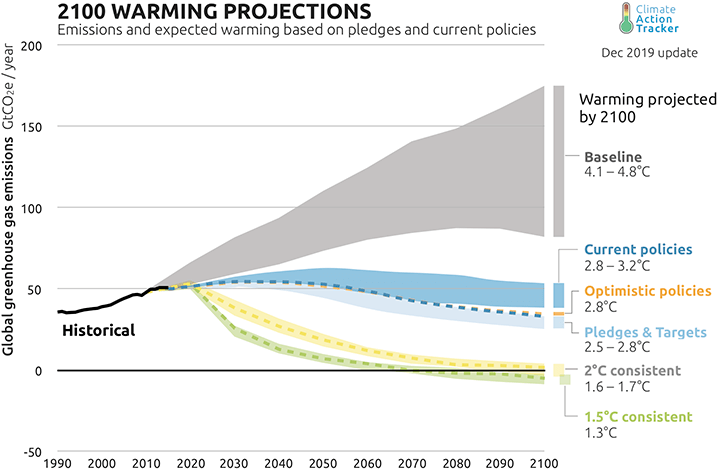 Source: Climate Action Tracker, as at 10 December 2019
With no policies in place, global temperatures are expected to increase by up to 4.8°C above pre-industrial levels by 2100.
Based on our current policies in place we are projected to reduce our emissions enough to limit global warming to about 3.0°C.
If all countries in the world do what they promised to do as part of the Paris Agreement, global warming would be limited to about 2.8°C – still well over what the Paris Agreement committed to.
To meet the Paris Agreement goal of limiting global warming to well below 2°C above pre-industrial levels by 2100 (and better still 1.5°C), a much more significant drop in emissions is needed than what we are currently projected to achieve. There is a critical gap between where we are headed now and where governments promised to go when they met in Paris back in 2015. We need to rapidly reduce our greenhouse gas emissions over the coming years to bring them to zero by around the middle of the century. The short-term reduction in emissions from global lockdowns only results in a temporary pause to the trend of emissions growth – climate change needs to remain at the top of governments', corporates', investors' and individuals' agendas to achieve the structural long-term transformation that is required.
2020 was envisioned as the year of climate action – the year when the gap to meeting the Paris goals was closed. Countries were due to come forward with new, more ambitious national plans ahead of the 2020 UN Climate Change Conference, also known as COP26, which was scheduled to take place in November in Glasgow.
In light of the current pandemic, COP26 has been postponed with no alternative date fixed yet, but we expect it to be held mid next year. A delay is never good news but there is a positive side to it: there is a chance to rebuild political momentum, some of which was challenged even before the pandemic. More preparations can be made ahead of that meeting. One critical decision point between now and then is the US elections due to take place in November; the dynamics of the climate negotiation will be very different depending on the outcome of those elections. But regardless of who becomes the next US president, the strategy remains the same as it did pre-pandemic: bottom-up pressure to break through the political deadlock. This means actions by sub-nationals, corporates, investors, and the public to create a ground swell of action in order to set the stage for a successful COP meeting.
Collapsing GDP will hit all types of energy investment; will the recovery be green?
The dramatic declines in energy demand growth are inevitably impacting on investments in new energy infrastructure, as company revenues decline, and new projects no longer look viable given dropping prices. The impact on energy infrastructure spending across the board will be very significant. There are certainly some significant short-term headwinds to renewable energy – supply chain interruptions, delays to construction and some projects failing to meet deadlines for incentive plans. But the impact on investment in new oil projects is likely to be even more dramatic – with the International Energy Agency predicting a one-third drop in exploration and production capital expenditure in 2020 compared with 2019.
The key question is what happens next in a post-pandemic world. There are increasing calls for a 'green stimulus' when we emerge from this crisis and governments begin to reflate economies. However, we're seeing a sharp divide between agendas in the EU, where both the European Commission and political leaders have been strongly supporting this idea, and other nations such as the US, where the focus is on bailout of the oil & gas sector looks more likely. There may also be 'green strings' attached to corporate bailouts in heavy-emitting industries such as airlines, but again this is looking more likely in Europe than in the rest of the world.
An interesting economic impact of the pandemic worth highlighting is behavioural change, which is the most difficult thing to achieve in economics. We have all changed our behaviour very significantly since the beginning of the pandemic, swapping office time for video calls and cutting down business travel to name just a few transformations in our working lives. Will some of this persist post-crisis? Columbia Threadneedle Financial Group's own CEO Darryl White has spoken of a 'Workplace 2.0', where blended home-and-office arrangements become the norm. In the UK, the AA has stated they expect to see a long-term impact on commuting travel, as more people opt to work from home at least some of the time. If such behavioural changes come through, they could be supportive of the transition to a low-carbon global economy.
Our climate change engagement
We set out climate change engagement as our major priority in 2020, details of which can be found here. As coronavirus began spreading across the world, we questioned whether we should divert our wider ESG engagement agenda to focus our efforts on the pandemic. However, we decided to maintain our focus on climate change, while of course remaining sensitive to the current situation. With the pandemic set to last for many months to come, we cannot afford to lose momentum around climate change – in fact, we need to rebuild this momentum up as we head towards the rescheduled COP26 negotiations, whenever they may be.
Our structure towards engaging companies is detailed in our climate change engagement paper. We ultimately expect companies to move from a basic awareness of the issue of climate change and how it relates to their business activities to aligning their business objectives with the Paris Agreement goals. Many companies are already responding with ambitious strategies, including net zero carbon commitments; crucially, whilst we welcome these, we also expect companies to clearly demonstrate their pathway for getting there, by setting out the specific actions they intend to take. When companies do not respond we are willing to use our vote at company AGMs to express our views – as a failure to act on climate change ultimately, we believe, puts companies' future long-term performance at risk.