Covid-19 has starkly highlighted persistent gaps in health and healthcare access. This Guardian article is one of many to discuss this in the UK context, but the problem extends globally throughout both developed and developing countries, thrusting the profound impacts of health inequalities into the spotlight.
We recognise the important role that pharmaceutical companies can play in reducing these inequalities, and the results of the 2021 Access to Medicine Index helped us to understand how companies are progressing and integrating access to medicine strategies within their overarching business models. Companies with leading initiatives are meaningfully contributing to better health outcomes in low- and middle- income countries, underpinning progress towards Sustainable Development Goal (SDG) 3: Good Health and Well-being.
Since the publication of the last Access to Medicine Index in 2018, the 2021 Index reveals that pharmaceutical companies have continued to improve different elements of their access strategies, and the number of companies developing a systematic approach to access planning has increased from 1 (Novartis) to 8.
Access plans currently cover less than half of late-stage research and development (R&D) projects. With regard to existing products, initiatives to improve access to them (including equitable pricing) tend to be narrow in scope: the Access to Medicine Foundation found no evidence of access strategies attached to c. 40% of the 154 self- and healthcare practitioner-administered products analysed. In brief, we have to acknowledge that unequal coverage is a long-standing problem.
A complex picture overall
Although significant gaps in access strategies still exist, the overall picture is complex. The scoring methodology used to construct the Index enables us and other stakeholders to hone in on strengths and weaknesses, and to evaluate progress over time. Each pharmaceutical company is assessed against the same priority topics – refined via stakeholder dialogue – and underlying indicators.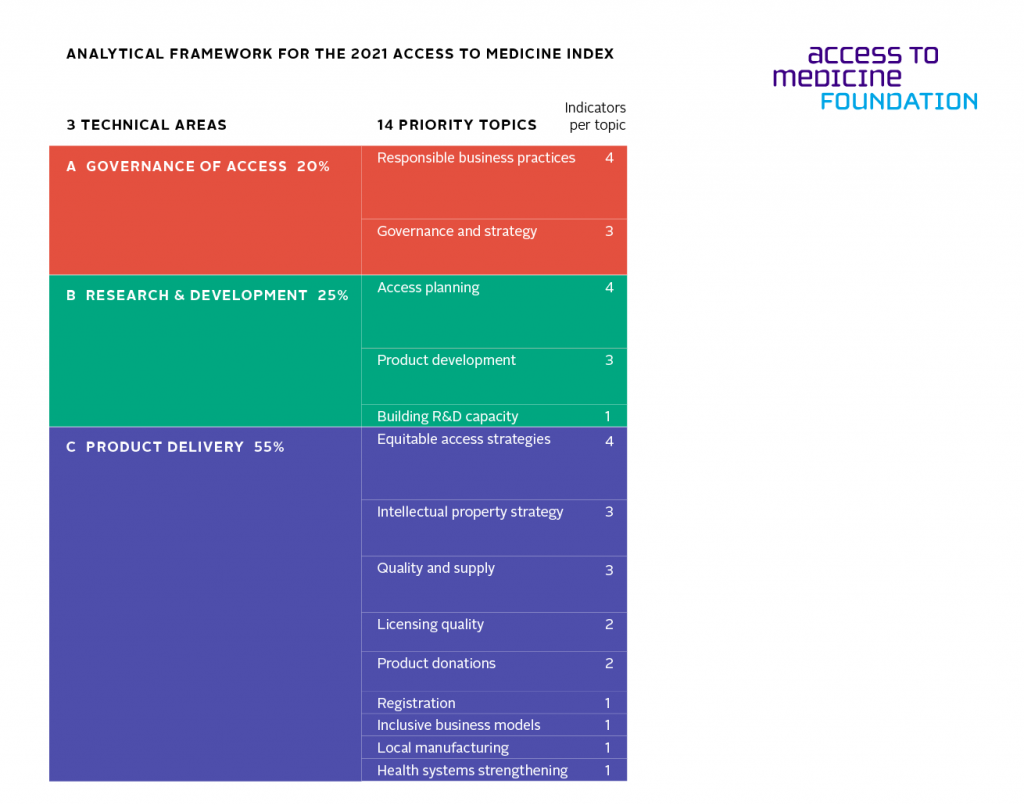 The high scorers in the Index
The pharmaceutical companies that score highly in the Access to Medicine Index, including GlaxoSmithKline (GSK) and Johnson & Johnson, have well-established access strategies with wide-ranging initiatives in low- and middle-income countries. Indeed, GSK has remained the leader in the Index since its inception in 2008. The company has a comprehensive access strategy bolstered by a large R&D pipeline targeting priority diseases (defined by the World Health Organization) impacting people in low- and middle-income countries.
Interestingly, for the first time GSK's Index score was only slightly higher than another company's – Novartis. Since 2018, Novartis has taken some major steps forward, including creating a dedicated unit for sub-Saharan Africa, which has the largest underserved patient population in the world. We are encouraged by Novartis' increased focus on access in low-income countries, because the Access to Medicine Foundation's research has shown that they are consistently overlooked by pharmaceutical companies' access strategies, which tend to target middle-income countries like Brazil and India.
The other end of the Index
At the other end of the Index, companies like AbbVie and Eli Lilly score relatively poorly due to a variety of factors. AbbVie, unlike the majority of its peers, does not have a clear access to medicine strategy embedded in its overarching corporate strategy, while Eli Lilly lacks a structured process for access planning during R&D. Furthermore, only a small percentage of both companies' products are registered for use in countries where the burden of disease is high.
How are we engaging companies?
We will continue to engage companies at the lower end of the Index, encouraging the adoption of best practices and flagging opportunities identified by the Access to Medicine Foundation. We know that rapid progress is possible: Pfizer, for example, has risen from 16th in the 2014 Index to 4th in the 2021 Index. The company has strengthened its access strategy, which has measurable objectives, and is transparent about the outcomes of its access activities.
Overall, we find reasons to be optimistic about the outlook for access to medicine. However, the unequal distribution of Covid-19 vaccines shines a spotlight on the many barriers to progress. If the gulf in public health between high- and low-income countries continues to widen, then the path towards achieving SDG 3 by 2030 – already jeopardised by the pandemic – will be further undermined.
Against this backdrop, investors must continue engaging on access to medicine and the opportunities identified by the Access to Medicine Index, building on the positive momentum of the SDG 3 collaborative investor engagement last year. As a lead investor, we gained very valuable insights from this, which we are using to tailor our dialogue with pharmaceutical companies this year.