At Columbia Threadneedle Investments, we believe that the best way to deliver sustainable growth and returns for our clients over time is to take a holistic approach to the assessment of risk and opportunity in our investment processes. By adopting a more responsible investment approach – building on our culture of teamwork, debate and collaboration – not only do we enhance conventional investment processes, but we enable our clients to benefit from better informed ideas.
Our responsible investment approach is borne out of our historic focus on equity and fixed income investment, and our view that well-governed companies tend inherently to be better positioned at managing risks and capturing opportunities. This same philosophy now underpins our approach to managing all asset classes to which we have exposure, whether equities, fixed income, real assets, commodities or multi-asset.
Putting the investment into 'Responsible Investment'
We look to drive stronger performance by combining enhanced insights from financial and non-financial research.
We focus on undervalued companies with sustainable business models and good standards of operating practice that support their role in the economy and society.
We have the talent, tools and techniques for this, as good stewards of our client's capital.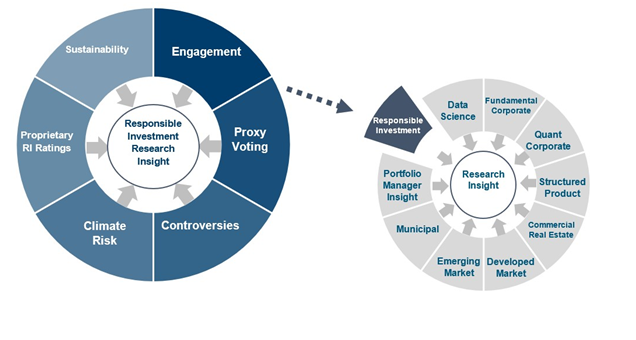 RI specialists with a focus on investments
Our dedicated RI team comprises specialists located across the globe. The team's broad objective is to provide unique insights into risk and opportunities that enhance investment performance that are not otherwise uncovered through traditional analysis. They collaborate with over 130 fundamental analysts, our quantitative research team, data science team and portfolio managers across the firm. They enhance research insight, as well as monitoring portfolios and investments, and support engagement with the issuers in whose securities we invest.